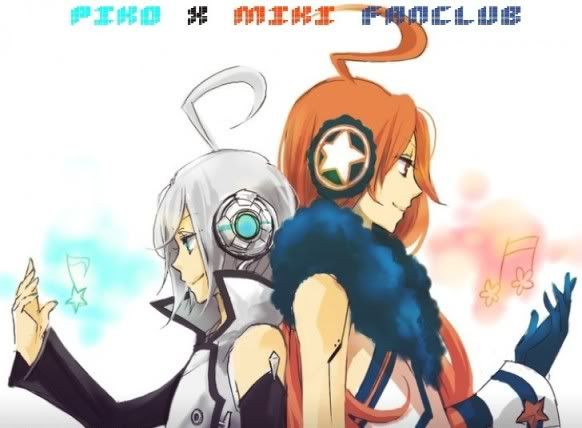 Reasons why they should be together:
Their outfits are similar ("Skirts" and wierd boots)
They both seemingly look unhuman
Their Optimum Tempo Ranges are VERY similar (Piko: 70~150bpm + Miki: 70~170bpm)
Both were released in December
Both are underrated
Miki and Piko both have Ahoges (which is a single strand of hair that sticks up by itself)
Wouldn't it be very romantic if their Ahoges got tangled up with each other??
(Do you know another reason?)
More Miki X Piko Pictures
Userbars/Link bars for your signature
It's such a pain in the ass when someone changes their display name and I have no idea who that person originally was... if your old name is on the list, tell me to change it...
The rules mentioned in the
Fanclub Guidelines Thread
apply here.
Contribution to this fanclub (Songs, Pictures, Fanfics, etc.) is entirely optional. You will receive no penalty if you simply join.
Members:
Me
Alex
Gearbox
Lentaco
Yoyo
astroninja1
Black garnet Ilemonation
AKAfreak
PedoSaur
Heiwa
Aika
Nori
Wasure
Charlotte
SpazzehBat
Diva
►♥MikiChan♥◄
LukaKannon
Lily Star
KagamineRin
KiramekiUtau
SEAWEEDcanoe
Ferb
Harumi
BioshockOliver