Welcome to Vocaloid Otaku!
guest which means you are limited to some discussions and access to other features.
Take a few minutes to browse around. Should you enjoy what you see, join our Vocaloid community and you will gain access to a plethora of cool stuff, including music downloads.

Registration is simple and fast. It won't fetch you more than a minute. What're ya waiting for?
Hop onto Vocaloid Otaku today!
Guest Message © 2013 DevFuse
Page 1 of 1
You cannot start a new topic

You cannot reply to this topic
SFA2-Miki test critique?
Posted 02 April 2012 - 09:59 PM
I made Miki sing Innocence
VSQ is by Sango312/Cover-P
Listen on Soundcloud.com
Any ideas how to make it better tuning-wise?
---
Posted 02 April 2012 - 10:26 PM
Well, the first thing I notice is that she sounds distorted/clipped. If you did the mixing in Audacity, it has a really low threshold for clipping. Its entirely possible to have 2 or more tracks that each individually have no clipping, but for the final exported file to have clipping. If you watch the output bars/monitor during playback, it'll turn red at any point there's clipping.

Either that or the distortion-esque sound could be your singer settings, but i've yet to see something like that be achieved using the Singer Editor alone, so kudos to you I guess.

As for the tuning itself, its just above bare minimum. Its apparent that a little editing was done, but not a whole lot. I'd say try adding in some vibrato since the whole thing is pretty flat. I'd also say "add some pitch bend" but thats possibly the most ambiguous and vague advice I could give you. um... its rather hard to explain how to pitchbend properly without actually being there and without writing a 10 page essay on it... Well, a few bendups at the beginning of some notes can make a good bit of difference. Just make sure not to make any abrupt stops where the vocals are voiced. i.e., the only time abrupt changes are allowed are on unvoiced consonants (k, t, p, sh, ch, s, ts, h, f, and perhaps a few others)

Also, I'm hearing some pitch problems. As in, like, some notes are just out of tune. Most noticeably "na," As in "riaru na" which shows up in every chorus. I imagine this is just how miki is. Its a good 20 cents sharp or so. Lower the PIT parameter below that note about 200 points if PBS is at 2. There's a bunch of other pitch problems too, but i guess thats not really the focus of this thread.

PACHELBEL'S CANON IS EVERYWHERE!!!!!!! DX

My YouTube:
http://www.youtube.com/user/AyuRox1
My SoundCloud:
http://soundcloud.com/winterdrive
My WIP Thread:
http://www.vocaloido...rives-wip-dump/

Set by PinkShinigami @ Ayumi Hamasaki Sekai
---
Posted 02 April 2012 - 11:25 PM
I'm not a professional at tuning and such, but I do know how I like my Miki. Miki, having worked with her a bit, has a tendency to yell her notes her notes in a tone deaf manner. You can hear it a lot in the verses, but that's simply what type of notes it is. Miki really doesn't like them, however.
So far in my limited browsing of Miki, I have only come across
one cover
that really combats that well. My guess is that they either used pitching, vibrato, or somehow found a way to make it fit. My first attempt would be with pitch, though. With the way this song must be mixed, making it fit doesn't seem possible, and vibrato can only do so much.
TL;DR
I would try altering the pitch around the longer notes to prevent Miki from just shouting the notes, which she seems to do often. As for mixing, I'm no wiser than the next guy. .w.)/
YouTube
~
deviantArt
~
tumblr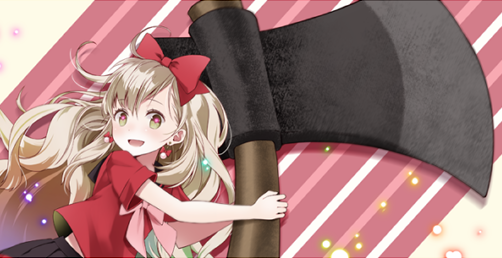 Fanclubs
---
Posted 06 April 2012 - 01:28 AM
Like what AyuRox said it is flat. PIT and PBS are your friend. Still for a first time I suppose it is not bad. Also maybe some dynamics could help it sound a little more alive.

.....IDK
---
Page 1 of 1
You cannot start a new topic

You cannot reply to this topic
---
1 User(s) are reading this topic

0 members, 1 guests, 0 anonymous users