[credits to Moe in their status update for the link]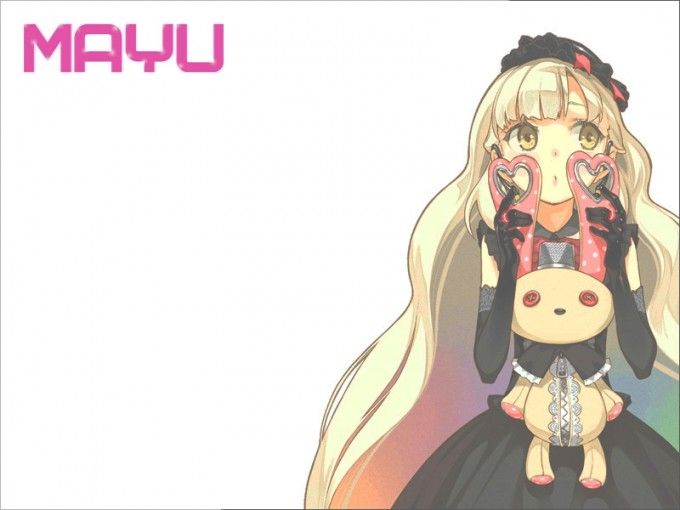 Quote

A few hours ago, while one of their live events, dubbed

EXIT TUNES ACADEMY

, was in session, EXIT TUNES announced their own VOCALOID character, MAYU. The official Twitter account for the event also

linked

to the

official homepage

, which currently only has a character image as well as usage guidelines. No information is available about who is going to voice her. There is also an official Twitter account associated with this project,

@exittunesstaff

. As for the usage guidelines, individuals and doujin circles can, without prior approval from EXIT TUNES, freely use the name MAYU, illustrations based on the character design as well as her voice created through the software as long as distribution is limited in scope or is one of the "noted distribution methods", regardless of whether money changes hands in doing so or not. Furthermore, commercial entities can freely use the voice without prior approval from EXIT TUNES. However, the official logo and illustration is not included in this license. The noted list of ways one could use the character consists of: decal cars (itasha), playing cards, candy, key chains, plastic protectors, cases, games, cosplay clothing, cosplay photographs, coasters, stickers, (cell-phone, etc.) straps, towels, tumblers, leaflets, T-shirts, doujinshi, stuffed toys, computers, music sheets, figures, hats, posters, mice (the electronic kind), mouse pads, mugs, robots, CDs, DVDs, augmented reality, virtual reality, and MikuMikuDance models.



You can see her better here, or in the spoilers below:


Notes about her appearance:

Her hat has a vinyl/speaker attatched

Her earings appear to be styled like the Blutooth headsets (Best way to describe it)

Her hair itself fades from simple blonde to rainbow

The buttons on her dress are amplifier buttons/knobs

The bottom of her dress is clearly a keyboard

The rabbit doll (Animaloid?) she holds has a microphone at the top of it's head, indicating this'll be her character item? (Miku has leek/welsh onion etc.)

She appears to be holding an axe...

Her shoes have neon lighting flowing through them


Togetter Page with more info (Japanese, this'll need translating, even though this isn't offical stuff, their may be some good things in there)
There's also a message on here which I can't translate very well..(anyone?)

The website says coming soon, so all we have is the picture at the moment.

Links:

[Thank you Karlita] The artist for Mayu is 左(Hidari)

Updates:

Update [07/05/2012 // 05/07/2012]

WALLPAPER ZIP IS ON http://mayusan.jp

Role mouse over Mayu's face and it turns into a devilish smile > Hint to her being yandere?
Update [09/05/2012 // 05/09/2012]
Mayu Icon uploaded onto Mayusan.jp

Voice Demo #1 Revealed & Later posted onto youtube (Most popular version above)

More artwork found

WALLPAPERS 01
1024x768
1280x800
1280x1024
Smart Phone