Kairu's VOCALOID Gender Bending Tutorial
Without ruining the song!
Kairu is here to teach to how to gender bend your VOCALOID's... CORRECTLY!
Okay, First is first. You're going to need these tools:
VOCALOID or VOCALOID2 Software
VOCALOID or VOCALOID2 Voice Database
A Vocaloid Midi or VSQ
Adobe Audition or some other professional-ish audio editing software.
STEP 1:

Choose Your VSQ/Vocaloid
First step, is to open up your VOCALOID software. Then Open a VSQ/Vocaloid MIDI by going to
File --> Open --> 
In this case I chose Miku singing Black Rock Shooter
STEP 2:

Move Up/Down The Notes
The next part is to move the notes Down/Up for a gender bend. If you are using a guy and gender bending it as a girl, you move it down and if you gender bending a girl, move it up. It is best to move it up/down 3 or 4 notes. Select all the notes by doing
Ctrl + Shift + A
. Like this:
Notice I moved it up 4 notches. It was originally on F3 for the starting note, now it is on G#3. That is what I mean up 3 or 4 notes.
STEP 3:

Exporting The Sound Into A Wave
Next, The easiest part. Export the Vocaloid song as a .WAV. It has to still be moved up/down 3 or 4 notes. Do not render the original. You export by
File --> Export --> Wave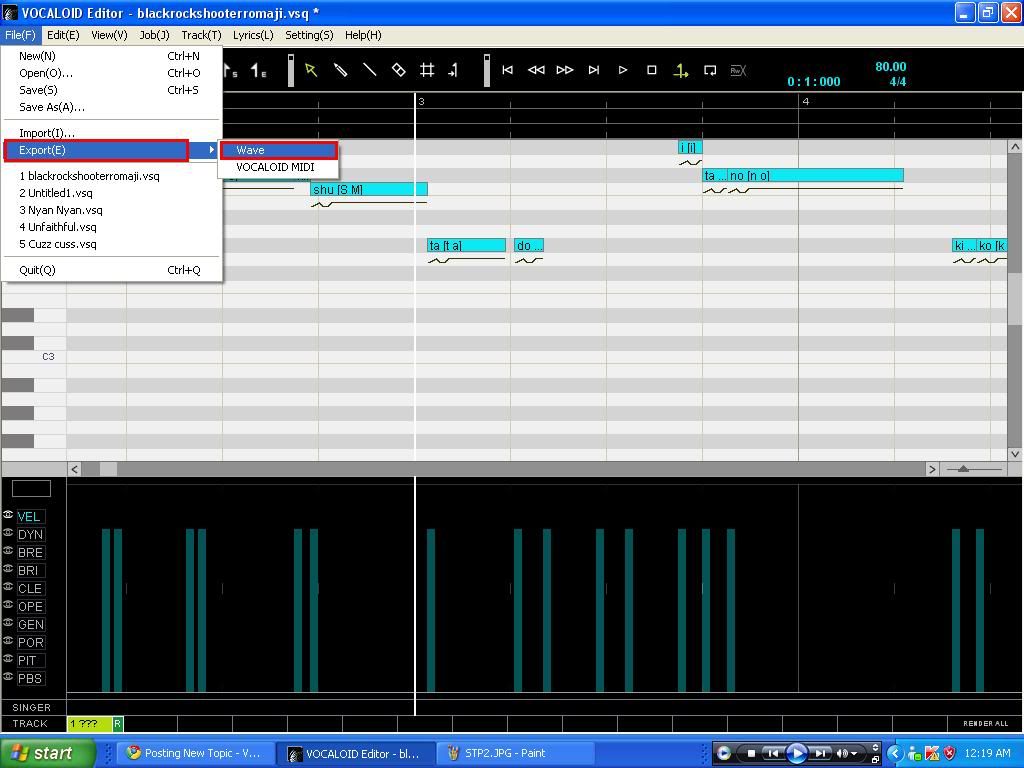 STEP 4:

Opening and Pitch bending
This is the most difficult part. Unless you have Adobe Audition. What you have to do is open the .WAV file in your music editing program.
(SUGGESTED NOT TO USE AUDACITY! IT DOES NOT ALLOW YOU TO PITCH BEND IN SEMITONES!)
Now, you go to pitch bend/edit pitch or whatever your program says. Then you move it Up/Down 3 or 4 semitones. Then, the vocaloid sounds like it's gender bent version, and it is on key with a karaoke, instead of bending the whole thing.
In this case I moved it -4 semitones because originally I moved the notes in VOCALOID 4 notes UP.
Thus, 
Female --> Move notes up --> negative semitones --> Genderbent male

Male --> Move notes down --> positive semitones --> Genderbent female
STEP 5:

Finishing
Now you just sync it with the original Karaoke and you got yourself a tuned gender bent vocaloid without changing the whole song!