Welcome to VocaloidOtaku!
guest which means you are limited to some discussions and certain features.
Take a few minutes to browse around. Should you enjoy what you see, register and you will gain access to more stuff.

Registration is simple and fast. It won't take you more than a minute.
Click here to join!
Guest Message © 2018 DevFuse
My Information
Group:

Members

Active Posts:

243 (0.11 per day)

Most Active In:

Fanclubs (82 posts)

Joined:

23-December 11

Profile Views:

27,715

Last Active:

Jul 07 2013 05:10 PM

Currently:

Offline

Member Title:

リンちゃん なう~! !(`・ω・´)/

Age:

Age Unknown

Birthday:

December 27

Gender:

Location:

Land of Oranges.

Interests:

Oranges!
Yukkarin < My favorite Artist
Hetalia

Producers:

Owata-P, Hachi, Nem, DECO*27



About Me
You can call me
Rin-chan
,
Rin
or
Kagamine Rin
.
I love to sing and Eating
Oranges!
You know? that i'm a Yaoi fangirl too! (I luff Yaoi! >w<)
I know Japanese too~ but.. not that good, Just can speak, write and read... !(`・ω・´)
My Favorite songs are: Kokoro, Migikata no Chou, Spice, Miku Miku ni Shite Ageru and Meltdown
Well, I'm a nice person to everyone but sometimes annoying too
My favorite food is Pizza and Sushi! and I like to drink Cola but not too much.
So, if you wanna be my friend just add me!
+
Optimum genre : Electro-pop, Enka, Pop and Rock
Optimum tempo : 85~175BPM
Optimum range : F # 3 ~ C # 5
Character item: Roadroller and Oranges
Have a Nice day! Oh want some Oranges?!
░████░░████░░
░█░░█░░█░░█░
░████░░████░░
░█░█░░░█░░░░
░█░░█░░█░░░░
Put This On Ur Page If U Do Role Play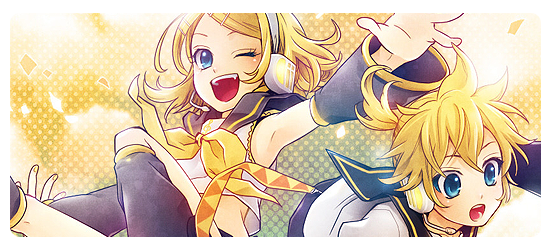 Kaga
min
e
Rin
/
Len
is
my
favorite
Vocaloid since
2009
'till now
2012
♥
リンちゃん


レンくん

•

•

•

•

•




•

•

•

•

•