Welcome to Vocaloid Otaku!
guest which means you are limited to some discussions and access to other features.
Take a few minutes to browse around. Should you enjoy what you see, join our Vocaloid community and you will gain access to a plethora of cool stuff, including music downloads.

Registration is simple and fast. It won't fetch you more than a minute. What're ya waiting for?
Hop onto Vocaloid Otaku today!
Guest Message © 2013 DevFuse
Kagamine Rin

's Profile
Group:

Members

Active Posts:

269 (0.52 per day)

Most Active In:

The Fanclubs (82 posts)

Joined:

23-December 11

Profile Views:

7,530

Last Active:

Aug 25 2012 09:56 AM

Currently:

Offline
About Me
You can call me
Rin-chan
,
Rin
or
Kagamine Rin
.
I love to sing and Eating
Oranges!
You know? that i'm a Yaoi fangirl too! (I luff Yaoi! >w<)
I know Japanese too~ but.. not that good, Just can speak, write and read... !(`・ω・´)
My Favorite songs are: Kokoro, Migikata no Chou, Spice, Miku Miku ni Shite Ageru and Meltdown
Well, I'm a nice person to everyone but sometimes annoying too
My favorite food is Pizza and Sushi! and I like to drink Cola but not too much.
So, if you wanna be my friend just add me!
+
Optimum genre : Electro-pop, Enka, Pop and Rock
Optimum tempo : 85~175BPM
Optimum range : F # 3 ~ C # 5
Character item: Roadroller and Oranges
Have a Nice day! Oh want some Oranges?!
░████░░████░░
░█░░█░░█░░█░
░████░░████░░
░█░█░░░█░░░░
░█░░█░░█░░░░
Put This On Ur Page If U Do Role Play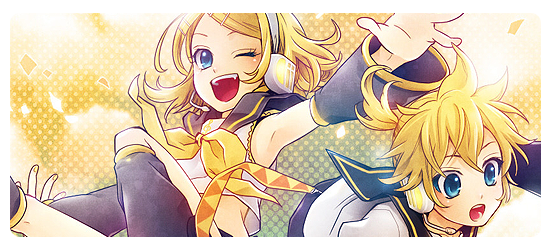 Kaga
min
e
Rin
/
Len
is
my
favorite
Vocaloid since
2009
'till now
2012
♥
リンちゃん


レンくん

•

•

•

•

•




•

•

•

•

•

My Information
Member Title:

リンちゃん なう~! !(`・ω・´)/

Age:

Age Unknown

Birthday:

December 27

Gender:

Location:

Land of Oranges.

Interests:

Oranges!
Yukkarin < My favorite Artist
Hetalia

Favorite Producer/s:

Owata-P, Hachi, Nem, DECO*27
Contact Information
E-mail:
Friends
Showing 50 random friends of 77 (View all)