Welcome to Vocaloid Otaku!
guest which means you are limited to some discussions and access to other features.
Take a few minutes to browse around. Should you enjoy what you see, join our Vocaloid community and you will gain access to a plethora of cool stuff, including music downloads.

Registration is simple and fast. It won't fetch you more than a minute. What're ya waiting for?
Hop onto Vocaloid Otaku today!
Guest Message © 2013 DevFuse
Luna Selene

's Profile
Group:

Members

Active Posts:

389 (1.17 per day)

Most Active In:

Vocaloid Talk (68 posts)

Joined:

21-June 12

Profile Views:

4,430

Last Active:

Private

Currently:

Offline
About Me
Hello I am Luna Selene and this is my partner in crime: Earth Virgo GB145BS!!
Beyblade anyone? No? Well that's okay, anyway, Welcome! The currently: 4,061 people viewing my profile (stalkers... I shouldn't be talking)
Song of the week:



Kagamine Rin- Closed






Vocaloid of the week:

VY1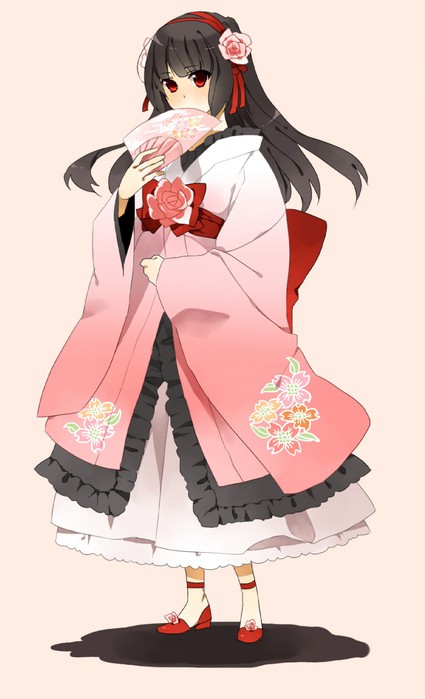 Quote of the week:



Quote

The purpose of art is washing the dust of daily life off our souls.
-Pablo Picasso

Wish List-
Favorite Vocaloids-

IA

Nekomura Iroha

Yuzuki Yukari

Megurine Luka

GUMI

MEIKO

Gakupo

Lily

Mayu

Avanna
Favorite pairings-

Rin and Len
Gakupo and Luka
Kaito and Meiko
VY2 and IA
Mew and Kiyoteru
Favorite Producers (I'm not very good with producers)-

Fatman-P
Mijipin-P
Ryuusei-P
shu-t
deco*27

Favorite things to do-

-watch/read anime and manga
-listen to music
-read
-draw
-write
-play piano/violin
-play tennis
List of all the anime I have watched/watching(* means favorite, though I like most of the anime on here)

-Death Note*
-GOSICK*
-Vampire Knight*, <3 Zero!
-Fruits Basket
-Ouran High school Hostclub
-Peach girl
-Zero no Tsukaima
-Maid Sama
-Spice and Wolf
-Special A
-Air
-Beyblade
-Strawberry Panic*
-Kimi ni Todoke*
-Itzura na Kiss
-Elfen Lied
-Toradora*
-Skip Beat
-Black Butler*
-Shugo Chara
-Mermaid Melody
-I love my little sister
-Tokyo Mew Mew power
-Princess Tutu*
-Earl and Fairy
-Inuyasha
-Bokura Ga ita
-Rosario+Vampire
-KissxSis
-Gauken Alice
-Princess Lover
-Cardcaptor Sakura*
-La Corda d'oro*
-Kaze no Stigma
-Neo Angelique Abyss
-Junjou Romantica
_Howl's Moving castle
-Okane ga nai
-Fortune Areterial
-Melancholy Of Haruhi Suzumiya
-Sailor Moon
-Girls Bravo
-Angel Beats!*
-Hanasakeru Seishounen*
-Sekai Ichi Hatsukoi
-Pandora Hearts
-Angel Sanctuary
-Saint Seiya The Lost Canvas*
-My Bride Is A Mermaid
-Clannad*
-Puella Magi Madoka*
-Yosuga no Sora
-Murder Princess
-Black Rock Shooter
-Usagi Drop
-Koi Kaze
-Yumeiro Patissiere
-School Rumble
-Rozen Maiden*
-D.N Angel
-The Mystic Archives of Dantalian
-Say I Love You*
-Hiiro No Kakera
-Fullmetal Alchemist
-Maria-Sama Ga Miteru
-Kamisama Hajimemashita
-Little Busters!
-Blast Of Tempest
-Blue Exorcist
-Princess Jellyfish
-Kobato
-Kaleido Star





Main Reason I joined this forum thingy-

-I love vocaloid, though I have never actually used the software, I'm planning on buying one soon.
-For once in my life I thought I should try being social
-Most people here like the same things I do

Well, that pretty much sums it up, this is the first time I've ever been a forum so I'm not exactly sure how you're supposed to manage things but please feel free to talk to me,I'm not shy or anything. I hope to get along with everyone :)
My Information
Member Title:

Even the winged seraphim cannot compare to my exquisite magnific

Age:

Age Unknown

Birthday:

July 22

Gender:

Location:

The tailor shop on Enbizaka
Contact Information
E-mail:

Private