Welcome to VocaloidOtaku!
guest which means you are limited to some discussions and certain features.
Take a few minutes to browse around. Should you enjoy what you see, register and you will gain access to more stuff.

Registration is simple and fast. It won't fetch you more than a minute.
Click here to join!
Guest Message © 2017 DevFuse
AbstractBlueSky

's Profile
Group:

Members

Active Posts:

60 (0.03 per day)

Most Active In:

Introductions (21 posts)

Joined:

11-December 10

Profile Views:

9,336

Last Active:

Jan 10 2011 07:27 PM

Currently:

Offline
About Me
僕? へえええ。 何でだろう? まあ、いいんだけどさ...
Hmm. Can't really think of really much to say. How about some basic likes? I'll make the page all "pretty" with pictures and other visuals that pertain to my personality later when I have the time and patience, haha.
Likes
Vocaloid: TAKO LUKA (OMG I WANT TO OMNOMNOM ON HER HEAD SHE'S SO CUTE LOL, *ahem*)Luka Megurine, Hatsune Miku, Kagamine Rin & Len, Kaito.
Anime/Manga: Hayate no Gotoku, Ore no Imouto ga Konna ni Kawaii Wake ga Nai, Kami Nomi zo Shiru Sekai, Hyakka Ryouran Samurai Girls, Highschool of the Dead, Strike Witches, Toradora... I'm sure there are more, but I'm blanking right now. xD
Games: Monster Hunter, Vindictus, Mabinogi, Divine Souls, Disgaea... eh, too much to name.
Favorite Vocaloid Songs: Black Rock Shooter (Choucho Cover), Melt (Boy's Version), Ai Kotoba, Uraomote Lovers, Just Be Friends
Other Stuff That I'm Too Lazy to Categorize: Caffeine(see:Coffee), TAKOLUKA
, tinkering with computers, drawing, writing, Utatte-mita, and being lazy at home. xD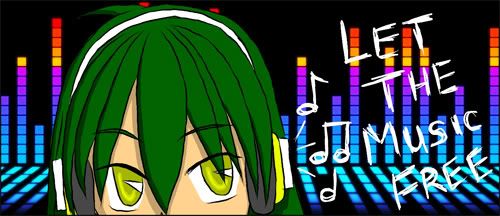 Seconded to make

music

the world's official language.
My Information
Member Title:

Believe in me, who believes in you!

Age:

Age Unknown

Birthday:

October 21

Gender:

Location:

YAAAARGH.

Interests:

VOCALOID, Anime, Manga, Japanese Music, Japanese Culture, Video Games, Drawing Animanga, Storyboarding
Contact Information
E-mail:

Private