Welcome to Vocaloid Otaku!
guest which means you are limited to some discussions and access to other features.
Take a few minutes to browse around. Should you enjoy what you see, join our Vocaloid community and you will gain access to a plethora of cool stuff, including music downloads and different layouts (which you can select at the bottom of the screen, where it says "Vocaloid Otaku Minimal").

Registration is simple and fast. It won't fetch you more than a minute. What're ya waiting for?
Hop onto Vocaloid Otaku today!
Guest Message © 2015 DevFuse
Hide

's Profile
Group:

Members

Active Posts:

1,990 (1.32 per day)

Most Active In:

Forum Games (626 posts)

Joined:

16-December 10

Profile Views:

33,515

Last Active:

Jan 28 2015 11:31 PM

Currently:

Offline
About Me

RP/NickNames:
°Hide
°Kari
Languages:
°English
°Spanish
°Korean
Likes:
°Violin & Guitar
°Cosplay
°Dancing
°Chemistry
Favorite Vocaloids:
°Luka Megurine

°Miku Hatsune

°KAITO

°Gakupo Kamui


Other Music:
°Kpop (DBSK, SHINHWA, Super Junior, SiSTAR, BEAST and more)
°JRock (X Japan, Vistlip, alicenine., The GazettE,

hide with Spread Beaver

)

Anime/Manga:
°Current Favorite Anime- Samurai 7
°Current Favorite Manga- Black Bird



"In a mad world, only the mad are sane..."



See you around.


•Hide•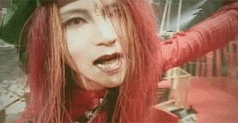 If we have wings, our wings are torn apart,
but as long as you, our fan, keeps sending us wind, we'll keep flying.
My Information
Member Title:

↳Let me drain, drain↰

Age:

Age Unknown

Birthday:

September 26

Gender:

Location:

Floating through the sky

Interests:

Cosplay, Music, Penguins

Favorite Producer/s:

QVIC
Contact Information
E-mail:

Private
Friends
Showing 50 random friends of 66 (View all)