Welcome to Vocaloid Otaku!
guest which means you are limited to some discussions and access to other features.
Take a few minutes to browse around. Should you enjoy what you see, join our Vocaloid community and you will gain access to a plethora of cool stuff, including music downloads and different layouts (which you can select at the bottom of the screen, where it says "Vocaloid Otaku Minimal").

Registration is simple and fast. It won't fetch you more than a minute. What're ya waiting for?
Hop onto Vocaloid Otaku today!
Guest Message © 2015 DevFuse
Hide

's Profile
Group:

Members

Active Posts:

2,028 (1.3 per day)

Most Active In:

Forum Games (629 posts)

Joined:

16-December 10

Profile Views:

33,735

Last Active:

Today, 06:25 PM

Currently:

Offline
About Me
Who are you?
Who am I? You could call me one of the fossils on this site. Not the oldest, but up there. I used to be a forum gamer and a greeter here, but now I have become a lurker and someone who simply posts blunt opinions.
What is your name? Hide and seek?
It's pronounced "He-Day". The name comes from the deceased guitarist of X Japan/frontman of Spread Beaver. If you'd like to see his work, look up "hide with Spread Beaver: Goodbye" or "X Japan: Kurenai". He's the one with the pink/red hair.
When did you get into Vocaloid/Who is your favorite/What is your favorite song?
2008. Megurine Luka. Bullet for Prisoner.
Anything else?
I'm obviously a huge fan of X Japan and hide with Spread Beaver, but I also enjoy KPop quite a lot. Which, may seem weird for someone who typically enjoys rock/metal. But hey, give me anyone who can hold a note and sing a ballad with emotion, and you've got me hooked.
I also cosplay in my spare time
fucking Chemistry degree takes up most of my time
. My favorite cosplay to do is Luka.
See you around.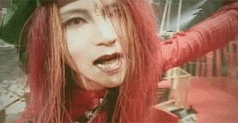 If we have wings, our wings are torn apart,
but as long as you, our fan, keeps sending us wind, we'll keep flying.
My Information
Member Title:

↳Let me drain, drain↰

Age:

Age Unknown

Birthday:

September 26

Gender:

Location:

Floating through the sky

Interests:

Cosplay, Music, Penguins

Favorite Producer/s:

QVIC
Contact Information
E-mail:

Private
Friends
Showing 50 random friends of 66 (View all)