Welcome to Vocaloid Otaku!
guest which means you are limited to some discussions and access to other features.
Take a few minutes to browse around. Should you enjoy what you see, join our Vocaloid community and you will gain access to a plethora of cool stuff, including music downloads.

Registration is simple and fast. It won't fetch you more than a minute. What're ya waiting for?
Hop onto Vocaloid Otaku today!
Guest Message © 2013 DevFuse
OtakuKitten

's Profile
Group:

Members

Active Posts:

11 (0.02 per day)

Most Active In:

Introductions (10 posts)

Joined:

10-August 11

Profile Views:

4,275

Last Active:

Jan 07 2012 09:45 PM

Currently:

Offline
Latest Visitors
shinrei alba


10 Jan 2012 - 10:05

Gpop


07 Jan 2012 - 22:30

KittehKandi


28 Dec 2011 - 22:33
About Me
オタクキトゥン
かわいい、イノセント、甘い
大胆な、クレイジー、ワイルド
My current favorite MMD on youtube (changes all the time)!
EVERYBODY~
Too funny.. I crack up everytime. The expressions are so great.
Just like the original video. xP
こんにちは、私の名前はジェシカです。私は20歳です。私の血液型はBです... ><"
アニメやマンガ..大好き! お会い出来て嬉しいです。私たちは友人とする!♥

私のプロフィールを読むのに時間を割いてくださったことを感謝します!

愛してる! :3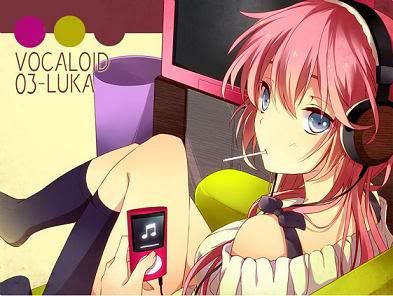 Megurine Luka (巡音ルカ) was the third Japanese Vocaloid2 from Crypton and released on January 30, 2009. Her surname combines Meguri (巡, circulate or around) and Ne (音, sound), while the name Luka invokes the homonymous Japanese words of "nagare" (流, flow) and "ka" (歌, song) or "ka" (香, scent); thus making "songs to all around the world as scent spreads."

Unlike its previous characters, Crypton advertised Luka's 3GB vocal database as "Japanese/English bilingual" and chose her name to express its hope that she will transcend borders and cultural barriers. Luka was designed by the Japanese illustrator Kei, who had previously created the designs for Hatsune Miku and Kagamine Rin and Len. However, unlike previous mascots in the series, her costume is not based on a school uniform.
Hello, my name is Jessica. I am 20 years old. My blood type is B ... ><"
I love anime and manga! Nice to meet you. We shall be friends! Haha! ♥
If you're wondering.. this is what I look like:
http://i826.photobuc...985966139_n.jpg
http://i826.photobuc...ahappyotaku.jpg
http://i826.photobuc...o/meandpika.jpg
Just for your information.. no I am not fluent in Japanese. Or any other language besides English. I do know a few basic words. I'm no baka, lol. (<- Wow, what a noob) I use google translator. (GASP!) If you haven't noticed already, Luka is my favorite Vocaloid. I feel like I'm more like her than any of the others. She was the first Vocaloid to have a song on my iPod. My other top faves are Miku, Ren, Len, Miki, Gumi, Gakupo and Hagane Miku. I love Lolita and Gothic Lolita fashion, but usually I just run around in jeans, a graphic tee and various colored converse. I have a glasses fetish, but I don't really like wearing mine unless I'm driving. I have been to anime conventions, but I have never cosplayed. It is something I really wanna do. But it's sooo expensive!!! People keep wanting to "hire" me as a maid for the cafe's. Just gotta find and buy an outfit first! I, personally, have a cat and a dog. But all the animals in our house hold come to me for food. I have an older brother and a younger sister, I am ten years apart from both. I have been with my boyfriend Chris since October 13th 2010.

He is my Gakupo!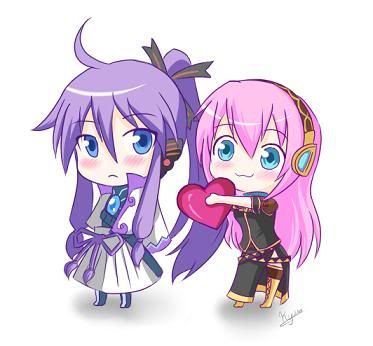 A little random and weird story:
When I was about fifteen I had this incredible urge for tuna! I would eat tuna salad sandwiches for lunch every day.
I already had this weird cat like behavior (I'm serious!). One example, I can purr.. for real.
My friends thought it was kinda freakish and nick-named me 'Kitten'. I loved it really.
I have always been a cat person. xD
One day after eating my usual tuna sandwich.. I came down with a bad fever and became really sick. It was nothing new to me, getting sick, because my immune system isn't great. But for about a week I was stuck in bed.. and suddenly the urge was gone and the smell of tuna was now unbearably horrible. I really haven't been able to eat any type of fish again. It kinda makes me sad that one of my cat like behaviors is gone. What's funny is the same thing happend to my grandmother reciently too. Why tuna, why? D:
お気に入りVocaloids:
ルカ、亀尾、三木、ミク
My Information
Member Title:

はい、マスター?

Age:

21 years old

Birthday:

December 3, 1991

Gender:

Location:

Johnson County, Texas
Contact Information
E-mail:
Friends