Welcome to Vocaloid Otaku!
guest which means you are limited to some discussions and access to other features.
Take a few minutes to browse around. Should you enjoy what you see, join our Vocaloid community and you will gain access to a plethora of cool stuff, including music downloads and different layouts (which you can select at the bottom of the screen, where it says "Vocaloid Otaku Minimal").

Registration is simple and fast. It won't fetch you more than a minute. What're ya waiting for?
Hop onto Vocaloid Otaku today!
Guest Message © 2015 DevFuse
Arries Loufue

's Profile
Group:

Members

Active Posts:

2 (0 per day)

Most Active In:

Introductions (1 posts)

Joined:

29-September 11

Profile Views:

1,206

Last Active:

Jan 07 2013 01:02 AM

Currently:

Offline
About Me
I am a strange person, to say the least. I like the dark and creepy side to the Vocaloid songs. Akujikimusume Conchita (Evil Food Eater Conchita), Scissorsloid, Kakome Kakome (Circle you, Circle you),etc. I like to learn the lyrics of the songs I listen to. I can almost sing Sousei of Aquarion all the way through, I know some of Akujikimusume Conchita and Kakome Kakome. If you wish to know me then just ask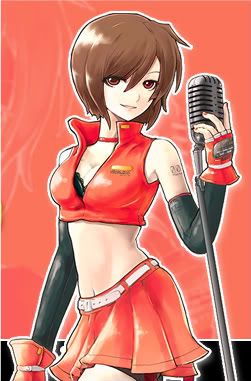 This is my favorite picture of Meiko.
And this one is my favorite of Len. Love the kitty as well :D
Len and Meiko are my favorites :D :D if you cant tell. Miku is very good as well but i still prefer Meiko more. And Len is just cute.
My Information
Age:

20 years old

Birthday:

June 8, 1994

Gender:

Interests:

I enjoy reading books, writing poetry, stories, and drawing. I love listening to Vocaloid music.
Contact Information
E-mail:

Private

YouTube:

Channel Link

Yahoo:

devangela17@yahoo.com